Fanstel ST250 Home Office Phone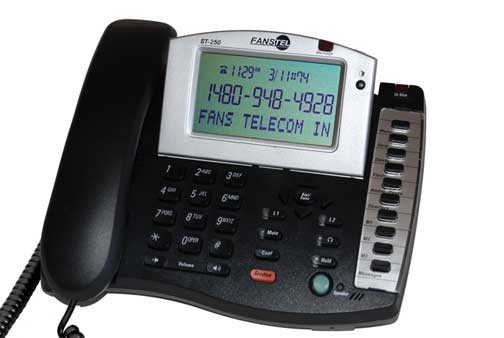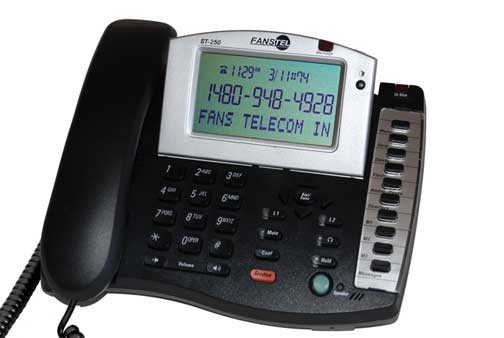 Fanstel ST250 Home Office Phone
The ST250 can be used with two phone lines.
The ST250 is a sophisticated amplified corded speakerphone. It boasts highly flexible sound settings; incoming voices may be amplified up to 52dB. Your colleagues won't even be able to tell that you have a hearing loss; the phone is designed to look like typical business phones. Perfect for home offices or businesses with analog phone lines.
The large 7.4 square inch display lets a user to read the screen, even from a distance. The phone features a quick and easy way to stay in touch even if they are out of the office by forwarding incoming calls with just the touch of a button.
One year warranty
Features:
- Two Phone Line capability
- Conference-grade speakerphone delivers crisp acoustic sound
- Speakerphone amplification up to 83dB SPL at 0.5m (about 20 inches)
- Loud 95dB ringer with AC adapter power
- Frequency-specific amplification for handset and headset (headset not included)
- Up to 52dB amplification at 120dB SPL
- Automatic activation for frequency-specific amplification
- RJ22 and 2.5mm headset jack with control button and built-in amplifier
- Headset LED indicator
- Redial memory of up to 32 digits99 name/number directory/ Caller ID
- Caller ID/Call Waiting ID supported
- Seven programmable one-touch memory buttons
- One Touch Call Forwarding
- Edit the telephone number before dialing
- Speakerphone and mute LED indicator
- Line powered so the phone works even in a power outage
- Tone or pulse dialing
- Adjustable ringer, speaker, headset and receiver volume
- Voicemail waiting indicator
- Backlit 7.4" 3-line LCD display
- Adjustable display contrast
- Adjustable display angle for easy viewing
- Hearing aid compatible
Product Code: HC-ST250